The Bella Santé Neocutis Introduction And Review Posted by Tiffany Amorosino in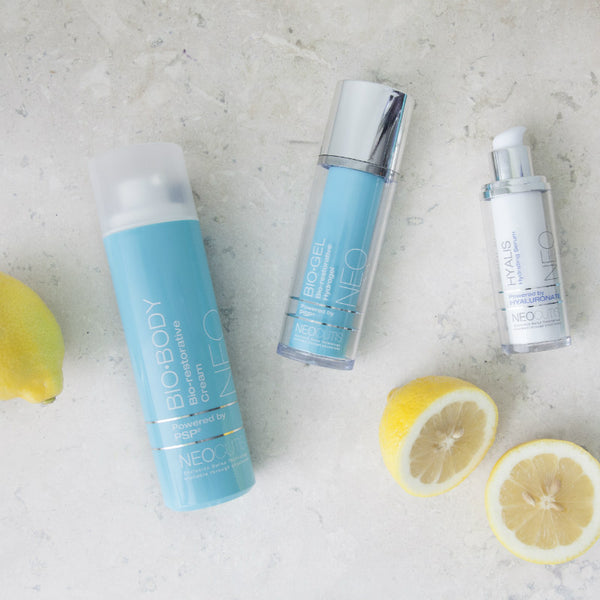 Available only through physicians, Neocutis is a medical grade skincare line that has razor sharp focus on two goals: delivering clinically proven skin revitalization, and defending against signs of premature skin aging. Read on to learn why Bella Santé has introduced this product line that packs results with every application.
Developed by Swiss scientists, Neocutis literally means "new skin". That's exactly what you will reveal with the anti-aging treatments, oxidative stress reducers and daily cleansing regimens. The core of the product line is the company's proprietary processed skin-cell protein technology, or PSP. Developed initially to help patients heal diabetes related wounds, PSP helps boost collagen production and cellular turnover rates. You can find PSP in Neocutis' anti-aging BIO treatment line.
Acknowledging the products that our guests are most interested in learning about, Bella Santé has chosen to carry the BIO•ESSENTIALS line by Neocutis. With the unique anti-aging and healing properties of PSP, each product offers patients strident defense against the various signs of aging.
JOURNÉE - Delivers multiple benefits in a once a day dose with a potent combination of hyaluronic acid, PSP, anti-oxidants and a broad spectrum SPF 30. Apply in the morning as your day cream for a reduction in the appearance of fine lines, hydration for a radiant glow, protection from the sun, and anti-oxidants in a blend of green tea extracts and vitamins C and E.
LUMIÈRE, LUMIÈRE RICHE– Both intensive eye creams that offer a powerful surge of PSP reverse the signs of aging in the delicate area around the eyes.
BIO•CREAM, BIO•CREAM RICHE – An anti-aging night cream that can be used on sensitive and post procedure skin, clinical studies have shown that after two months of daily use, this powerhouse product reduces the appearance of facial wrinkles.
BIO•GEL – An oil free product in a light form that delivers the full benefits of PSP to skin that is prone to oil.
BIO•SERUM – Intense is the only way to describe this highly concentrated PSP delivery system. Use it to target stubborn areas for faster results. Perfect for crow's feet, the forehead, and anywhere else you need a little more.