The Best Laser Hair Removal In Boston, Lexington & Wellesley: We've Got It Posted by Tiffany Amorosino in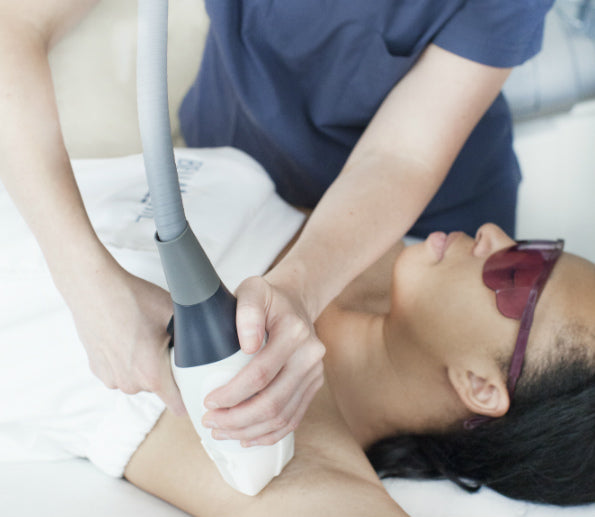 Laser Hair Removal Boston: We answer your questions about which laser hair removal is best, how it works, how much laser hair removal costs and more. With more Best of Boston awards than any other spa, we know luxury AND results. Learn more about  our laser hair removal treatment: one of our MOST requested MedSpa services!
Imagine having effortlessly smooth legs or a hair-free chest and back and saying goodbye to razors, depilatories, and temporary hair removal techniques that don't always remove hair.

Benefits of Laser Hair Removal
Laser hair removal is one of the top five most requested nonsurgical cosmetic procedures that people want at a med spa—and it's easy to see why. FDA approved, this treatment uses light technology to remove and destroy unwanted hair from anywhere on your body.
Laser Hair Removal:

• Lasts for years
• No side effects and no irritation
• No chemicals
• Painless, in-office procedure
• Safe to use on legs, armpits, face, back, chest, or bikini area
• Works on all skin tones
How Does Laser Hair Removal Work?


This advanced technique uses concentrated light. Your Boston med spa technician focuses the light on your hair follicles. The follicles absorb the light, and this kills them instantly.

Most people experience a hair loss of 10% to 5% after just one session with a Vectus laser. To achieve long-lasting results, you may need three or more sessions. Some people experience permanent hair loss after getting the treatment. At a minimum, you can expect to stay hairless for two years.


Which Is the Best Laser Hair Removal System?
Our goal is always to bring you the latest, most innovative spa treatments, and that's why we selected the Vectus laser. Here are four reasons the Vector laser stands out.

• Larger applicator: The large applicator makes quick work of even larger areas. It also distributes light more evenly than others, so you don't get missed spots or uneven application.
• Works on all skin tones: Many laser systems work best on people with light skin and dark hair. Some don't work at all on darker skin tones. The Vectus, however, works on all skin colors and types. It is the only laser hair remover that is truly customizable for every customer.
• Affordable: Despite all these benefits, the Vectus system is affordable. We'll design a custom plan that fits your budget.
• Designed for men and women: You can use the Vectus laser on your face, chin, ears, chest, back, buttocks, legs, ears, jaw, or anywhere you have too much hair.
Which Laser Is Best for Facial Hair?
The Vectus is the best laser hair removal system for facial hair. We offer affordable treatment packages to remove hair from your chin, upper lip, sideburns, beard, chin, eyebrows, or beard.

How Do You Get Ready for Laser Hair Removal?
Are you ready to get lasting smoothness? Here are some tips to help you get great results before you start.

• Stop tanning or using sunless tanners a month before you start treatments.
• You can shave the area, but don't wax or pluck.
• On the day of your appointment, be sure the area is free of cosmetics, lotion, or cream.
What Is the Cost of Laser Hair Removal Boston?
Your cost will depend on the area you're treating, the thickness of your hair, and other factors. We'll develop a personal treatment plan tailored to your needs. To learn more, make an appointment for a consultation at our Boston med spa.