5 Tips For Beautiful, Glowing Skin From A Bella Santé Aesthetician Posted by Tiffany Amorosino in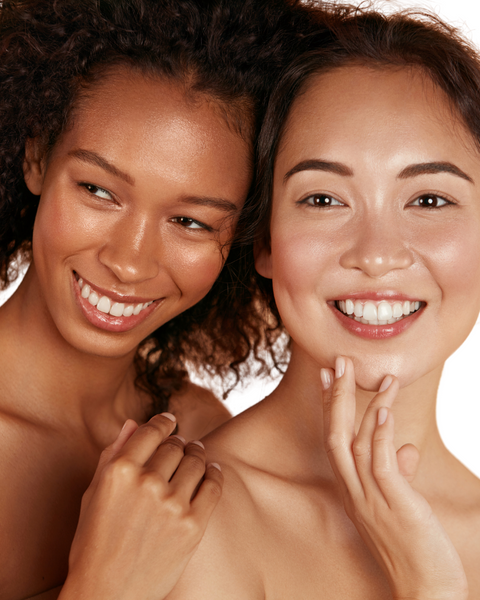 Guest blogger Ashli Carnicelli, a Bella Santé aesthetician, stops by this week to share her skin care philosophy through her five keys to beautiful and timeless skin.
The following are my recommendations to maximize the skin you have, keeping skin hydrated and glowing, and preventing premature signs of aging.
1. Proper Hydration
Do you know how much water you should be taking in per day? The old adage of 8 glasses of water per day may not be meeting your needs. Every individual should be drinking half of their body weight of water in ounces per day. For example, a healthy 120lb woman should aim to drink 60 ounces of water per day. (Caution: Please seek the advice of your physician for water intake if you have any health problems such as heart or kidney disease). Just like a plant will wilt and its leaves start to discolor from a lack of water, so does your skin!
Opting for clear liquids and avoiding soda and coffee to depend on your water intake is crucial. You only absorb half of the water from a soft drink or coffee. In addition, caffeine can dilate capillaries in the skin causing a ruddy or flushed appearance. it can also exacerbate skin conditions like rosacea.
2. Proper Nutrition
Phytonutrients, the micronutrients found in plants, protect the skin from the inside out with naturally occurring antioxidants. As they nourish your cells and tissues, they also protect them from oxidative stress and can lower inflammation. Think green, leafy vegetables and fruit with edible peels that are exposed to the sun like apples, berries, sweet potatoes, avocados, fresh bell peppers and carrots.
Consuming fish that are high in Omega-3 fatty acids such as salmon or snapper combat aging and benefit neurological function. They also help neurological development of a growing baby for our pregnant, skin conscious friends! In our nutrition obsessed and fast paced culture, it is important to remember that the best way for the body to absorb and receive nutrients is through the actual foods themselves, rather than a supplement. If you do not have access to fresh fish and produce on a regular basis, supplements can fill in some of the gaps.
Medical literature suggests that inappropriate ratios of Omega-6 to Omega-3 (Your Omega-3 to Omega-6 ratio should be 3:1) can promote inflammation, oxidative stress and present biomarkers for aging within the cells and tissues of the body. Foods with a high ratio of Omega-6 include Vegetable Oil, Soybean Oil, Sunflower Oil, Corn Oil, Cottonseed oil. Instead, opt for Safflower Oil, Canola Oil, Coconut Oil and Palm Oil. Avoid cooking with Extra Virgin Olive Oil, as the heat damages the nutrients and can actually create carcinogens. Instead, use it at room temperature as a finishing oil on meats and salads.
Women are more susceptible to the hormones contained within meat, dairy and eggs. If you can, try to buy organic, non-steroidal and non-hormonal meat. Antibiotics and hormones in meat can interfere with estrogen in women's bodies, and this could lead to breakouts and other health problems.
3. Regular Facials and Intermittent Peels
To prevent premature aging and maintain the good health of your skin, regular monthly facials are key. Receiving exfoliation from a professional aesthetician helps the products they use to penetrate and hydrate the skin, preventing aging. If you receive a peel every other facial (every 8 weeks) you will help boost the collagen in the skin and increase cell turnover rate to head off the wrinkles and sagging skin.
4. Retinol/Vitamin A
I can't say enough about this miracle product. Since retinoids were approved in 1971 as a topical cream to cure acne, they have been proven in multiple studies to plump skin, combat wrinkles, unplug follicles, eliminate bacteria on the skin, and lighten discolorations on the skin like hyperpigmentation and melasma.
There are many different forms of retinol to choose among. From pharmaceutical grade Retin-A to preparations sold at the Spa (Biopelle is one I often recommend). It's important to receive the guidance of a trained aesthetician or dermatologist when determining which products  are appropriate for you skin and how often to use them. *Note: Retinol is not appropriate for use if you are pregnant, trying to become pregnant or nursing. While using Retinol wear sunblock and a hat when exposed to the sun, because your skin can be more easily damaged.
5. Sun Protection
Which brings me to THE most important of all skin care rules for healthy skin. You must protect yourself from the sun by wearing a mineral sunblock in an SPF of at least 30. If you are going out in the sun, re-apply every few hours and wear a hat. Avoid direct sun if you can; this is particularly important during the hours of 12-2pm. In a mineral sunscreen the active ingredient is typically Titanium Dioxide or Zinc Oxide. There are studies being conducted on whether or not the active ingredient Oxybenzoate, found in chemical sunscreens, is estrogen-receptive and possibly carcinogenic. Therefore, we advise our guests to avoid this type of sunscreen until definitive conclusions have been drawn.