Transitioning To A Fall Skin Care Routine Posted by Tiffany Amorosino in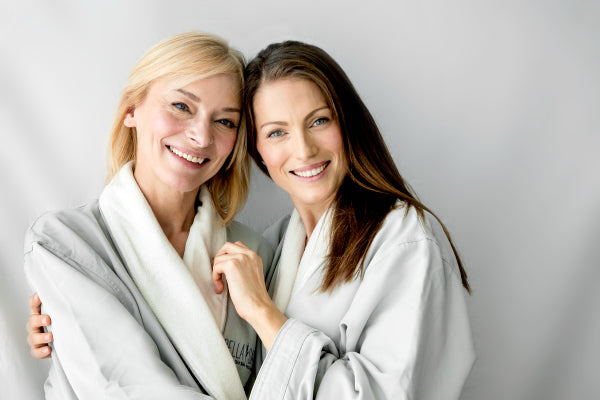 Making the transition from summer skincare habits to a new seasonal routine helps your skin look and feel its best. Although the steps may remain the same, the products your skin needs can change dramatically in autumn.
Skin Needs More Moisturizer In The Fall
Part of what gives autumn air its distinctive cool crispness is drier air. Cool, dry air supplies your skin with less ambient hydration, and on breezy days, it can even carry away moisture from the surface of your skin. For dry or combination skin, changing weather means it's time to change your moisturizer. A more emollient cream instead of a light summer lotion gives your skin's surface more protection from becoming rough and parched. Even oily complexions sometimes benefit from a richer moisturizer, especially if you take your exercise routine outside to enjoy the weather.
As summer's skin-baring styles give way to sleeves and pants, your skin needs extra help from your body wash. Throughout the day, fabric wicks away the natural moisture your skin produces to keep itself healthy. Switch from a bracing shower gel to a moisture-rich cream-based cleansing lotion or foaming wash. If your skin's particularly dry, look for sulfate-free body washes that cleanse thoroughly without drying. Follow up with a body lotion formulated to address your skin type's specific needs, such as a hydrating oil-free formula for oily skin or a richer body butter for dry skin.
Consider this the right time to introduce serums into your routine. While providing added hydration, they also offer correction from the summer sun. Two popular serums among the Bella Santé staffers are the Retexturing Activator Bio Serum and B5 gel; both are great for repairing the skin's barrier.
Do You Need Sunblock In The Fall? 
Whether you're expecting a clear autumn day or a gray one, your skin still needs protection from aging ultraviolet rays in the fall. Use sunblock everyday. Choose a physical sunscreen containing finely milled titanium oxide for everyday wear in the fall. EltaMD makes one that we love for everyday and for a post procedure skin protectant.
Exfoliate, Exfoliate, Exfoliate
Exfoliation keeps skin summer-ready, but it's just as important for radiant skin in the fall. As with other fall-friendly skincare products, your exfoliating products should be kind to dry skin and help it retain its moisture. Oil-based sugar scrubs gently remove old skin cells without stripping skin of its moisture. Don't skip your feet just because it isn't sandal weather anymore; they still need extra exfoliation when they're tucked into boots. When looking at spa services, consider a peel as we step into fall. Peels can provide a deeper exfoliation to revive skin that has spent time in the sun, and they can be tailored to every type of skin.
Schedule A Facial
Have you put yourself on a skincare regimen yet? Autumn months are often busier ones, and it's easy to let stress build – stress that shows in your skin. While you are adjusting to your new schedule, don't forget to adjust your skin care routine at the same time. Make time to schedule an exfoliating facial or a full body scrub that removes summer's marks on your skin and leaves it looking its best. Before you know it, holiday season will be here; be ready for it with your best fall skincare routine yet.