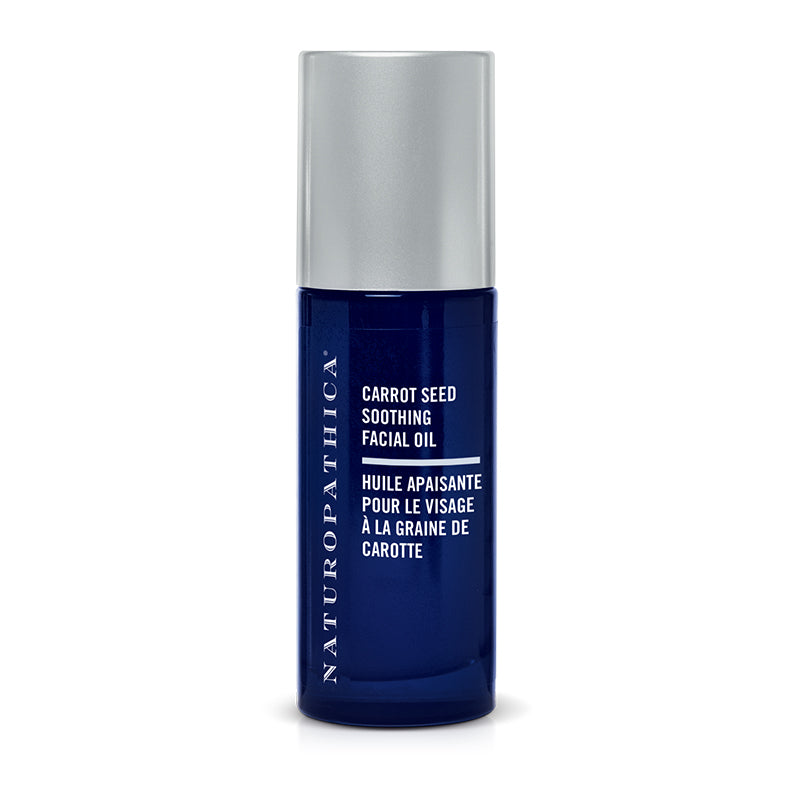 Carrot Seed Soothing Facial Oil
$ 73.00
ABOUT THIS PRODUCT
Benefit: Hydrate & Protect
Skin Type: All Skin Types
Skin Condition: All Skin Conditions
An ultra-calming blend of hydrating and soothing seed oils to nourish the skin and prevent redness with protective Carrot Seed Oil and anti-inflammatory Evening Primrose Seed Oil.
KEY INGREDIENTS:
Carrot Seed Oil
Contains active sesquiterpene lactones, a group of biologically active plant compounds, that contribute to its ability to reduce inflammation.
Decreases skin damage from ultraviolet exposure and improves the function of red blood cells, thereby improving the tone and elasticity of the skin.
Helps stimulate and rejuvenate dull, dry skin and is useful in reducing wrinkles, sun spots or other signs of damage over time.
Evening Primrose Seed Oil
Rich in

 

Omega-6 Fatty Acids, Linoleic Acid (LA-75%)

 

and

 

Gamma-Linoleic Acid (GLA – 10%). Metabolites formed by

 

GLA

 

improve cellular membrane function and restore the skin lipid barrier, leaving skin hydrated and protected from injury or stress.
A non-comenogenic seed oil,

 

Evening Primrose Seed Oil

 

can dilute sebum production, calm blemish flare-ups, and hydrate the skin. Studies show it's effective in treating skin conditions such as eczema and inflammation.
GLA

 

is converted to powerful

 

Prostaglandins

 

which have potent anti-inflammatory and anti-irritant benefits, helping to protect the skin from the damaging effects of UV radiation that lead to inflammation and skin aging.
Carrot Root Extract
Provides anti-aging benefits because it is rich in

 

Vitamin A

 

and

 

E

 

and

 

Beta Carotene.
Reduces scarring and helps to soothe inflammation, especialy dry, chapped skin.
Carotenoids

 

help to decrease skin damage caused by UV exposure.
Apply a pea size amount of oil with 2 pumps of a facial mist to fingertips and massage into skin in a circular motion daily at night. Facial oils may also be added to moisturizers, or used alone as serums.
1.0 fl. oz.