How We CARE For You (What Makes Bella Santé Different) Posted by Tiffany Amorosino in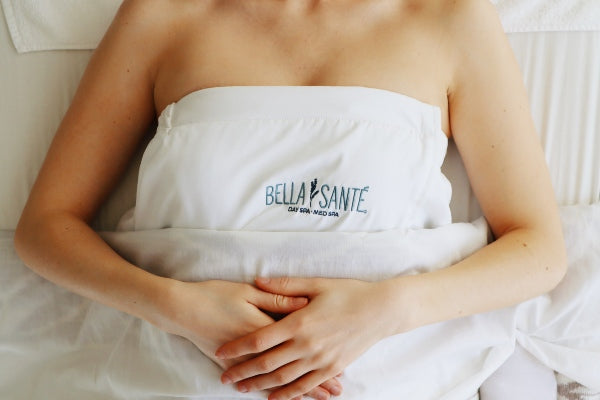 What separates a visit to Bella Santé from any other Day Spa or Med Spa in Boston, Lexington or Wellesley? Certainly our unique services, our luxurious and results oriented products, and the restful environment make us stand out. But that's only part of it. We think it's the people who truly distinguish our full-service spa. Our talented team of aestheticians, massage therapists, stylists, concierge staff and spa directors do more than care for you; they CARE.
CARE is what every guest receives, and it stands for Connect, Anticipate, Respect and Engage. Let's take a closer look at what it means to CARE for you.
Connect
When you visit, the connection you have with your stylist or aesthetician sets the tone for your entire stay. To make sure they connect with you, every member of our team follows these principles, putting you at ease and delivering personal service:
Be Responsive – You can only connect with someone who's responsive, so being a fanatic about response time is vital. Following up and following through ensures you get the best possible service.
Be Positive – Your spa visit should renew your mind and spirit as well as your body. We understand that surrounding you with warmth, kindness and a positive attitude sets the tone for your whole stay. Even when facing minor challenges, a positive outlook works wonders.
Be Observant – Every detail of your time with us matters, and your attendants are there to record your preferences. Tell your aesthetician about the refreshments you like, your favorite scents and where your shoulders hold tension, and we will strive to have everything ready for you on your next visit.
Anticipate
Meeting your needs without your having to ask is what a spa that CAREs does best. When everything is prepared for you, all you need to do is relax and put yourself in experienced hands.
Be Ready – When your spa attendant gets it right the first time, you don't need to repeat yourself or wait. Taking the extra time to warm towels for you, massage your hands before a manicure, and refresh you with cooling fruit-infused spring water is just part of our standard service to you.
Be Flexible – Accommodating you by seeing things from your perspective helps our expert staff anticipate your needs. It's a win for you, but it's also great for us because when you're delighted, we've committed to total CARE.
Be Proactive – Your spa experience doesn't begin and end at the door. Our aestheticians help you maintain that sterling level of care at home with recommendations for glowing good health, lustrous hair and clear skin.
Respect
From our guests to other members of our team to Mother Earth herself, respect is an integral part of the CARE philosophy.
Be Immaculate – Every aspect of your spa experience should be clean, fresh and inspiring. It's a sign of respect to make sure towels, tables and tubs are pristine for you.
Be Trustworthy – Respect starts with trust, so keeping our promises to you is paramount. Promises kept are the start of a memorable spa experience.
Be Sustainable – Reducing waste, saving resources and committing to sustainable practices shows our respect for the environment. You can request natural spa care products to take your green spa day a step further.
Engage
You'll find everyone on our staff fully present when with you. We hope to being engaged by listening, responding to concerns and celebrating special times with our valued guests.
Be Empathetic – Even in the most caring environment, mistakes can happen. We treat these as learning opportunities and use them as a chance to do better next time. Problem-solving is our specialty.
Be Communicative – When you tell our team something, we hear you. If you're a first-time guest who wants the full explanation of every service, we're ready. If you're familiar with our services and know just what you want, we'll take care of that too.
Be Happy – Spa days are special days for so many of our guests. Brides and bachelors, sweet-sixteen parties and couples packages, birthdays and holidays – whatever you're celebrating, we want to help. Your special moments become that much more meaningful when we're able to offer our congratulations too.