Top 5 Reasons To Try The HydraFacial Posted by Tiffany Amorosino in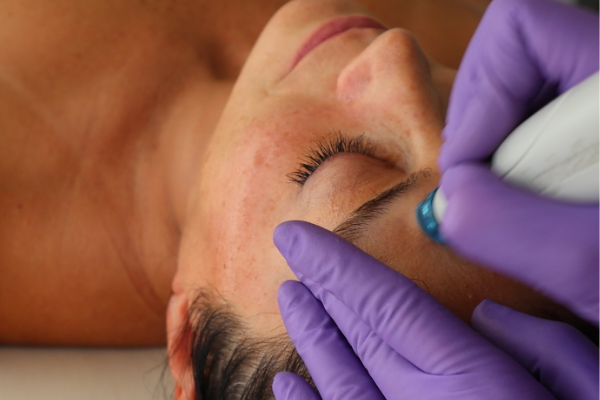 A unique procedure that can be compared to microdermabrasion, the HydraFacial is one of the most advanced non-laser skin resurfacing technologies available today. This one treatment cleanses, exfoliates, hydrates and treats your skin with antioxidant protection.
Spa facials are great for getting happier skin in the long term, but sometimes you may be looking for a little bit more from your skin care routine. Enter the HydraFacial, a new way to give even sensitive skin a quick treat that exfoliates and moisturizes with just a few passes of the wand. You may have not heard about this new treatment yet, and that's why we want to share with you the top five reasons you will want to try a HydraFacial.
The HydraFacial Is Customizable
The first part of the treatment's name comes from the hydration it gives. Instead of blasting skin with grit to exfoliate, a HydraFacial uses controlled pulses of serum to lift away old skin cells. During each treatment, your esthetician can customize serums to deliver treatment tailor-made to any skin type. Dry skin is drenched with moisturizing serums while oily skin gets a thorough, yet gentle, deep cleanse.
The HydraFacial Is Quick
At Bella Santé we offer the choice of a 50 minute HydraFacial treatment or the 30 minute express version. There's enough time to get a facial during a busy work day and still have time left over for lunch. You'll find that there is no down time or intense irritation after your HydraFacial. Some people may notice that their skin is a bit pink after, but that will only last up to an hour. No need to take the week off and hide at home! It's quick to show results too, and instant gratification is a beautiful thing. Go ahead and apply makeup, work out or head back to the office looking refreshed and glowing.
The HydraFacial Is Preventative. It Takes Care of Little Problems Before They Become Big
Fine lines, surface discoloration and clogged pores are easy to overlook at first. Over time, though, they become permanent features of the landscape; a landscape that should be softly rolling hills and valleys but instead looks like the badlands of South Dakota under a magnifying mirror. Exfoliation is essential to healthy skin, but overly harsh scrubbing leads to irritation and could even worsen conditions such as rosacea and acne.
Does The HydraFacial Hurt? No. It Feels Great!
Imagine a soft brush dipped in cool cream and stroked lightly over the skin; that's a pretty close match for how a HydraFacial feels. The experts at Bella Santé compare it to the feeling of a cat's tongue against the skin. This is one spa treatment that feels as good as it makes skin look.
Ready to try something new? The HydraFacial is an easy way to get the results you're looking for. Unlike many other procedures, your skin will start showing improvements from the first treatment on. The full extent of benefits can be reached by having a HydraFacial performed in a series of three to six appointments in two week intervals.