Soothe A Sunburn With Active Skin Care Products Posted by Tiffany Amorosino in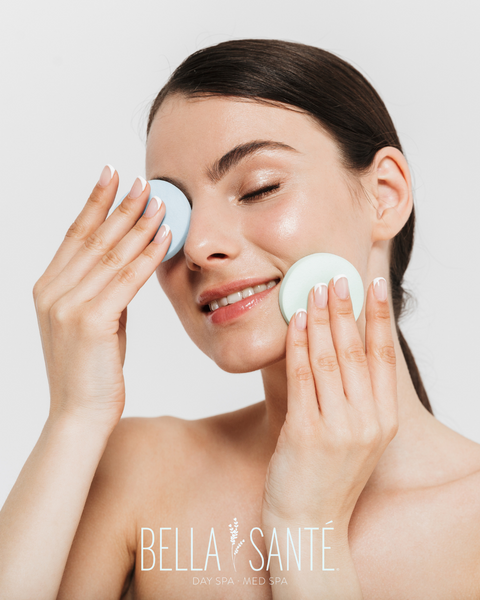 Is your skin suffering from the effects of too much sun? The right combination of products can help make that sunburn feel better and heal faster. Learn what Bella Santé's Medical Services Director recommends specifically for you.
Let's face it, even when you have the best of intentions, sunburns happen. Longer days and summer sun mean more time outdoors, and all that sun exposure can lead to a painful sunburn. Makeup can take away some of the redness in sunburned skin, but the tight, dry, irritated feeling can last long after the ruddiness fades. When your skin feels burned, quench it with calming, hydrating products that help it repair itself.
Speed The Healing Process
A combination of SkinCeuticals' CE Ferulic serum and B5 gel will make your sunburn disappear far more quickly than letting it heal on its own. One of the ways sun damages skin is through free radicals. These are ionized particles that affect your skin on the cellular level. SkinCeuticals CE Ferulic serum feels weightless, yet it's one of the most powerful defenses your skin has against dangerous free radicals. The Vitamin C, Vitamin E, and Ferulic acid boost each other in a dramatic way. Vitamin C is a powerful antioxidant that fights the free radical damage caused by the UV rays and makes your sunburn go away more quickly. Ferulic acid help protect skin's natural acid mantle.
Calm Irritated Skin
The powerful antioxidants in the CE Ferulic serum form an invisible barrier against further damage while the cooling texture soothes angry skin.  Applying SkinCeuticals B5 gel after the serum calms and soothes that tight irritated feeling your skin can have after a sunburn. Follow up with B5 gel to nourish, speed repair and maximize protection from oxidative stress. Use these skin saviors two to three times a day, and don't forget your sunscreen to keep burns from worsening! Use a purely physical block like Elta MD's UV Physical 41. It will shield your skin without irritating it.