Ultherapy
Face, min / Face and Neck, min / Face, Neck, and Décolletage, min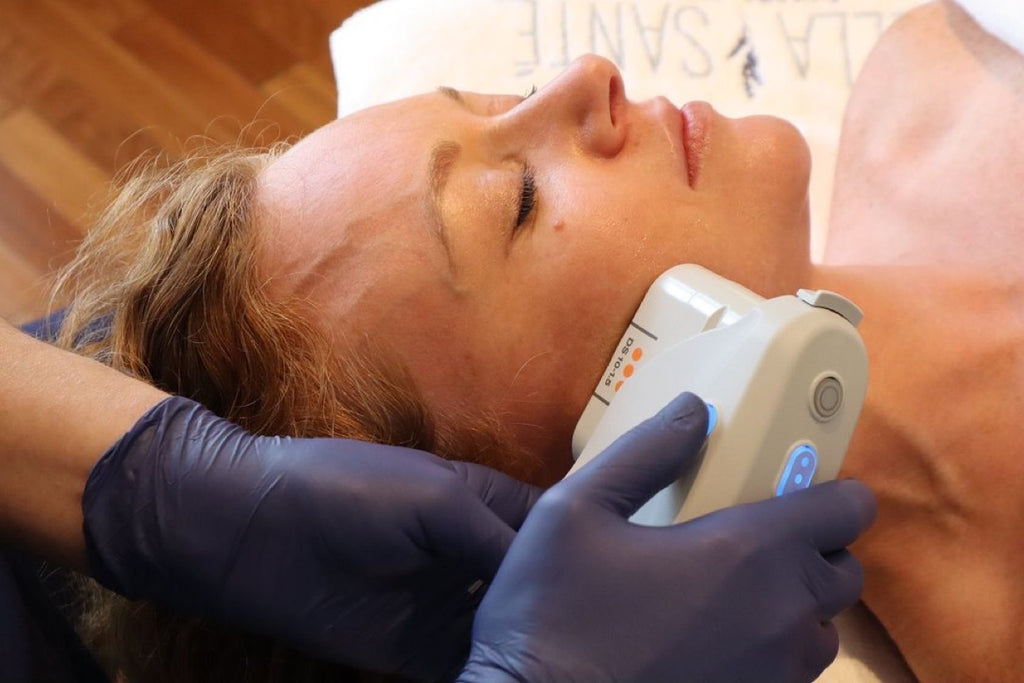 Experience the lifting, tightening, and firming benefits of Ultherapy - the only FDA-cleared non-invasive treatment for the neck, chin, brow, and décolletage that is designed to deliver lasting, natural-looking results without any downtime.
Ultherapy In Boston (Skin Tightening For Face & Neck)
Ultherapy employs micro-focused ultrasound to trigger your body's innate collagen and elastin production, yielding natural-looking outcomes. It is available in all three of our Med Spas: Boston, Lexington and Wellesley.
How Does Ultherapy Work?
Ultherapy is a non-invasive treatment that employs focused ultrasound energy to stimulate the production of collagen deep within the skin's layers. By precisely targeting specific areas, treatment creates a regenerative response that leads to tighter, firmer skin over time. This process promotes natural rejuvenation without incisions, allowing for gradual improvements in the appearance of wrinkles and sagging, and giving a more youthful and lifted look.
What Concerns Can Ultherapy Treat?
An innovative non invasive cosmetic procedure, Ultherapy is your answer to a range of skin care concerns. Designed deliver exceptional results, this treatment rises to the occasion by rejuvenating the skin's elasticity, reducing wrinkles, and revitalizing your overall appearance. Using ultrasound technology, Ultherapy stimulates collagen production, naturally lifting and tightening treated areas.
From neck tightening with a non-surgical face lift to a forehead lift with an eye lift, there is an Ultherapy treatment for every guest interested in receiving a treatment with lasting results. And with its impeccable safety record and minimal downtime, it's become a top choice for those looking to combat the visible effects of aging and maintain a radiant complexion.
Who is Ultherapy for?

Ultherapy is ideal for individuals who wish to lift, tighten, and smooth the look of their skin. Sometimes referred to as a non surgical face lift, it is recommended for those who are experiencing mild to moderate laxity due to the natural aging process. While many people may associate skin laxity with advanced age, it can actually begin to occur as early as your 30s. This is because as we age, our skin produces less collagen and elastin, two proteins that give skin its firmness and elasticity.
If you have noticed the beginning signs of sagging skin, such as a less defined jawline, loose skin around the neck or chin, or wrinkles and fine lines on the chest, Ultherapy can be a great treatment option. It is a non-invasive, non-surgical alternative to traditional facelifts and neck lifts, making it an attractive option for those considering facial rejuvenation and who are not yet ready for more invasive procedures.
In fact, getting skin tightening therapy in your 30s or 40s can actually help slow down the aging process, as it stimulates your body's natural collagen and elastin production. This means that your skin will continue to look firmer and more youthful for longer.
Ultherapy is also a great option for those who have already had a facelift or neck lift and want to maintain their results. It can be used as a complementary treatment to help maintain the lift and firmness achieved with surgery. 
What are the benefits of Ultherapy?
Non-invasive and FDA-cleared
Lifts and tightens skin without any downtime
Stimulates your body's own collagen and elastin production
Natural-looking results
Can be used on various areas of the face and body, including the brow, chin, neck, chest, and décolletage
What is the recovery process like?

Comfort levels vary from person to person, but the sensation only lasts while the ultrasound energy is being delivered
There is no downtime after the treatment, and guests can resume their regular activities immediately
Results may vary from patient to patient, but improvement can continue for up to 6 months post-treatment
BOOK A CONSULTATION
At Bella Santé, we are excited to offer this Medical-Grade skin lifting therapy at all three of our locations. Schedule your Ultherapy Skin Tightening Consultation today and discover the benefits of this revolutionary treatment for yourself.
BEFORE & AFTER ULTHERAPY RESULTS
Our Ultherapy skin tightening treatment is clinically proven to stimulate the natural production of collagen and elastin, leading to tighter and lifted skin on the neck, chin, and brow.
Results can become visible within two to three months and can continue to improve for up to six months, lasting up to a year or more. While ultrasound therapy is not a replacement for surgical facelifts, it is a non-invasive alternative for those who are not yet ready for surgery. Please note that individual results may vary.
FAQ
What is Ultherapy, and how does it work?
Ultherapy is a non invasive skin tightening treatment that uses micro-focused ultrasound to stimulate the production of collagen and elastin, resulting in tighter, firmer skin. It targets the deep layers of skin that are typically addressed in a surgical facelift, without any downtime or invasive procedures.
What areas can Ultherapy treat?
Ultherapy is cleared by the FDA for use on the neck, chin, and brow areas, and improving lines and wrinkles on the décolletage. At Bella Santé, we offer skin tightening therapy treatments for the following areas:
Brow Lift (forehead and brow area only)
Upper Face
Lower Face/Chin Area
Full Face
Neck
Chest
Who is a good candidate for Ultherapy?
Ultherapy is ideal for individuals who wish to lift, tighten, and smooth the look of their skin. It is best suited for those with mild to moderate skin laxity due to the natural aging process.
Is Ultherapy painful?
While everyone's comfort level is different, most patients describe Ultherapy as a sensation of heat or tingling that is tolerable and brief. Our experienced Medical Estheticians will work with you to ensure that you are comfortable throughout the entire procedure.
What is the recovery process like after Ultherapy?
There is no downtime associated with Ultherapy, and guests can return to their daily activities immediately after the treatment. You may experience some redness or swelling in the treated area, but this typically resolves within a few hours.
How long do the results of Ultherapy last?
The results of Ultherapy vary from patient to patient, but most guests can expect to see improvement for up to 6 months after their treatment. Maintenance treatments can help to prolong the effects of Ultherapy.