Microneedling (Collagen Induction Therapy)
Face, 50 min - $ 350 / Face and Neck, 60 min - $ 450 / Face, Neck, and Décolletage, 80 min - $ 750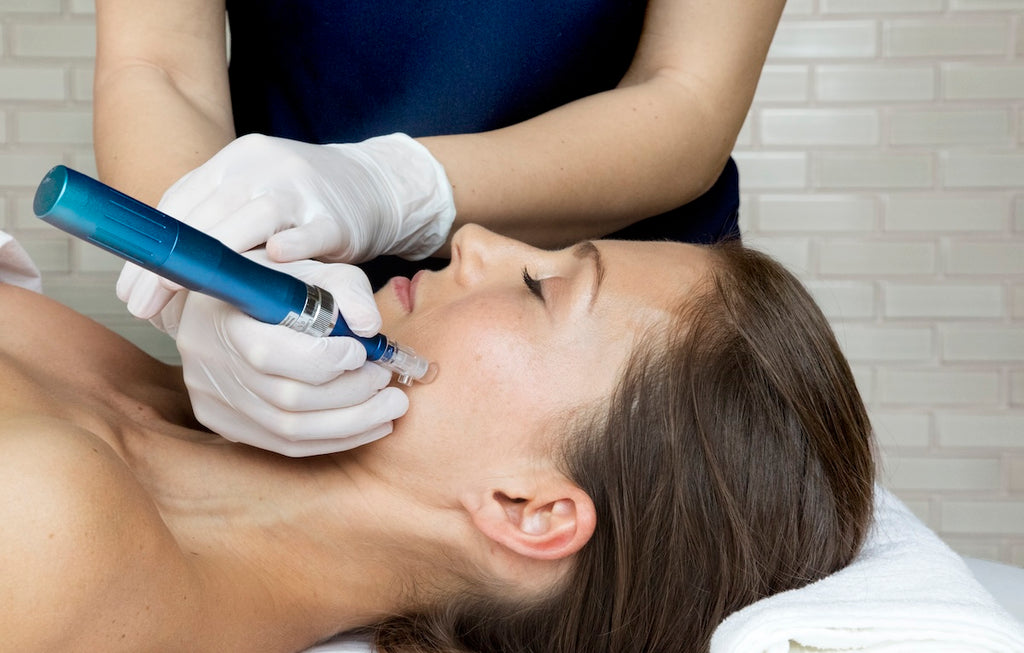 Microneedling In Boston
Revitalize your skin and unveil a glowing complexion with the rejuvenating benefits of microneedling or micropenning: after only one treatment fine lines fade, scars smooth, and skin radiates with a healthy, luminous glow.
Microneedling is offered in all three of our Med Spas: Boston, Lexington and Wellesley. 
What is Microneedling?
Microneedling is a minimally invasive, rejuvenating treatment that triggers collagen production, reduces fine lines and wrinkles, and improves skin texture.  Our medical-grade treatment uses the SkinPen®, a safe and effective device that creates micro-channels in the skin to stimulate collagen and elastin production. Microneedling spa services can be customized to target specific concerns and areas on the skin.
Results can be seen in as little as one treatment, but a series of treatments is recommended for optimal results. 
Benefits of Microneedling:
Stimulates collagen production
Reduces fine lines and wrinkles
Improves skin texture and tone
Diminishes the appearance of acne scarring and hyperpigmentation
Non-invasive and requires no downtime
When is Microneedling Effective? 

Microneedling is effective for guests seeking to address a range of skin concerns. It's highly beneficial for those with fine lines, wrinkles, and signs of aging, as it stimulates collagen production, resulting in a more youthful complexion. Additionally, a microneedling facial is a potent solution for improving the appearance of scars, including those caused by acne or other skin traumas, by prompting the skin's natural healing processes. We recommend skin microneedling for hyperpigmentation issues and sun damage as well, because it works to encourage the turnover of damaged skin cells for a brighter and more even skin tone.
Skin needling treatment's ability to enhance the absorption of topical treatments also makes it an excellent complement to high-quality skincare products, further amplifying its effectiveness. 
Book A Microneedling Appointment 
Who Is A Good Candidate For Microneedling?
The microneedling treatment is excellent for individuals with fine lines, wrinkles, or acne scars, as it effectively stimulates collagen production, resulting in a smoother and more luminous complexion. Additionally, those struggling with uneven skin tone, pigmentation issues, or sun damage can benefit greatly, as skin microneedling encourages the turnover of damaged skin cells, leading to a more radiant and even skin tone. It's also a fantastic option for individuals seeking a non-invasive procedure that offers noticeable results without extensive downtime.
At our med spa, we assess each individual's unique skin needs and goals to ensure they're an excellent candidate for microneedling, providing a tailored approach with a customized plan.
FAQ
What is Microneedling?
Microneedling is a minimally invasive treatment that uses a device with tiny needles to create micro-channels in the skin. This process triggers the body's natural healing response, stimulating collagen and elastin production and improving the overall texture and appearance of the skin.
What areas can Microneedling treat?
Face
Neck
Décolletage
Hands
Arms
Is Microneedling painful?
The SkinPen® device used for microneedling services is designed to be as comfortable as possible for patients. A numbing cream can also be applied to the treatment area to minimize any discomfort.
How many Microneedling treatments are recommended for optimal results?
A series of 3-6 treatments, spaced 4-6 weeks apart, is recommended for optimal results. However, individual results may vary and can depend on the severity of the skin concern being treated.
Is there any downtime with Microneedling?
There is minimal downtime with skin microneedling. Patients may experience some redness and mild swelling immediately after the treatment, but this typically subsides within a few hours to a day. Patients can resume normal activities immediately after the treatment, but should avoid exposure to direct sunlight and wear sunscreen for the following week.
Is Microneedling safe for all skin types?
Microneedling is safe for all skin types, but a consultation with one of our skincare experts is recommended to determine if this treatment is right for you.