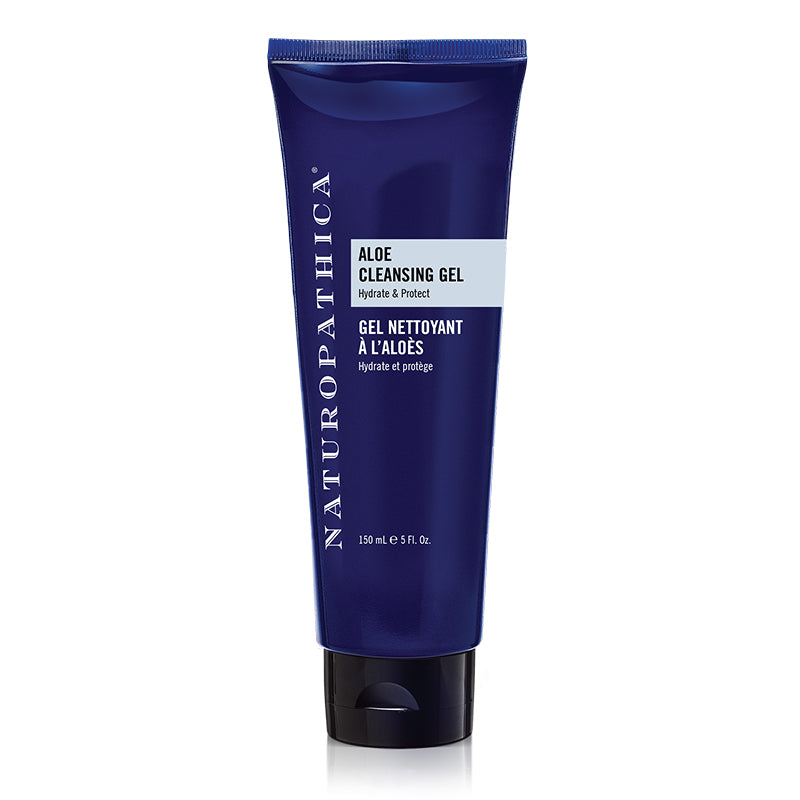 Aloe Cleansing Gel
$ 41.00
ABOUT THIS PRODUCT
Benefit: Hydrate & Protect
Skin Type: All Skin Types
Skin Condition: All Skin Conditions
Size: Retail | 5fl.oz/ 150 ml tube     
A multipurpose, sulfate free, cleansing gel that deep cleanses and refreshes the skin with Aloe Vera Leaf Juice, Lavender, Ylang Ylang and Rose essential oils.
KEY INGREDIENTS:
Aloe Vera Leaf Juice
Renowned for its moisturizing, soothing properties and ability to aid healing,

 

Aloe Verahelps prevent immune suppression caused by UVB rays by repairing damage to the Langerhans cells and by reducing redness and inflammation.
Its role in wound healing has been attributed to its capacity to accelerate the turnover of collagen.

 

Salicylate

 

and

 

Carboxypeptidase

 

are in part responsible for anti-inflammatory activity.
Sourced from Texas, it's stabilized after harvest through a cold temperature process to limit oxygen exposure and retain its nutrients.
Lactobacillus Ferment
Unlike yogurt, Lactobacillus Ferment are a safe, stable and FDA approved way to add pre and probiotic in skincare.
Probiotics helps to rebalance skin texture by stimulating cellular renewal and increasing collagen production.
Beneficial elements of bacterial lysates includes Hyaluronic Acid for enhanced moisturization and barrier function.
Xylitylglucoside, Anhydroxylitol and Xylitol (XAX)
Multifunctional moisturizing and restructuring agent derived from sugar, from natural origin (wheat, wood).
Enhances overall barrier function of the skin to help skin retain moisture and boost levels of

 

Hyaluronic Acid.
Improves skin texture for a softer, smoother skin.
*Contains Essential Oils of Rose, Lavender and Ylang Ylang.
HOME USE:
Apply a small amount of cleansing gel to palm of hands, add water to create a mild lather, apply to moist skin and gently massage into skin. Rinse with luke warm water and follow with hydrating mist.