Platinum HydraFacial MD
75 Minutes - $ 500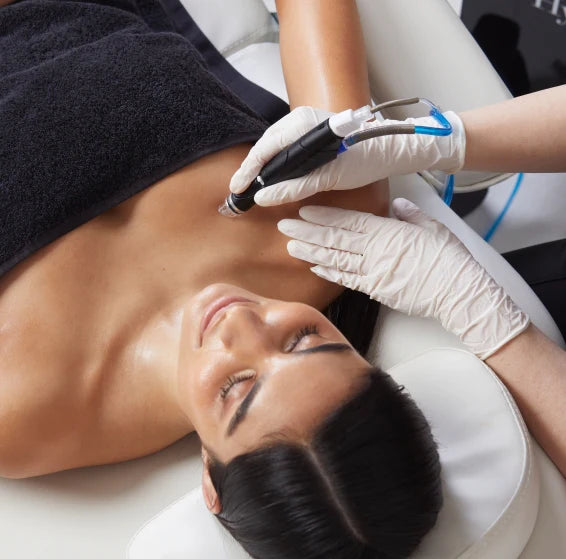 Experience our most popular advanced facial at the highest level. The Platinum HydraFacial MD includes each step of the Deluxe HydraFacial MD with the addition of the treatment of the neck and décolleté with the Epicutis booster specifically formulated for these delicate areas. This treatment features medical grade skincare products and minimizes the appearance of fine lines and wrinkles to restore skin health.
HYDRAFACIAL MD
® 
ENHANCEMENTS:
HydraFacial MD Perk Eye- Includes take-home product
This eye treatment uses patented roller-flex technology that is gentle enough to be performed on the delicate eye area. The serum infusion delivers nutrients like Green Tea Extract as a powerful antioxidant, a blend of Earth Mineral Peptides that reduce fine lines and wrinkles, Arnica, Horse Chestnut Seed and Oat Kernel Extract to sooth puffiness and brighten dark circles. Use the take-home serum to extend the results of this treatment. 
HydraFacial MD Perk Lip - Includes take-home product
This enhancement plumps and deeply hydrates with Corum Peptides and Peony Root Extract brings out a natural rosy shade of your lips. After a gentle exfoliation, lips are infused with Aloe Leaf Extract and Peppermint Oil. As a result, lips are exfoliated, visibly smoother, lightly plumped and hydrated. The home-care Lip Replenishing Serum with vitamins A,C,E increase hydration level and protect from environmental damage. 

Epicutis Neck and Décolletage Enhancement 
An exclusive formulation for those seeking to visibly revitalize the neckline and achieve smoother looking skin. Reduces the appearance of fine lines and promotes deep hydration.
HydraFacial MD Hands 
Can be added to any HydraFacial MD treatment to deliver the same deep skin cleansing, rejuvenating and hydrating effects to the hands.
Growth Factors Enhancement 
This enhancement is designed to trigger the skin's own renewal of collagen and elastin fibers by delivering natural proteins deep into the skin. The results are smoother, firmer skin, with a reduction in fine lines andf wrinkles.
Britenol Enhancement 
Using Vitamin C, Alpha-Arbutin, and the brightening agent, Britenol, this enhancement paired with the HydraFacial MD® helps minimize the appearance of dark spots, sun spots, and hyperpigmentation.
DermaBuilder Enhancement 
The perfect add-on to your HydraFacial MD®, DermaBuilder is packed with peptides that will will enhance your skin's elasticity, improve its texture and tone, and give your skin a firmer appearance.
Rozatrol Enhancement 
With the Rozatrol® Booster Serum, the HydraFacial™ treatment can be customized to relieve the visible signs of red, sensitized skin. Experience the added benefits of the HydraFacial Rozatrol® Booster Serum
Learn more about the HydraFacial MD® treatment:
FAQ
WHO IS A GOOD CANDIDATE FOR HYDRAFACIAL?
HydraFacial is suitable for all skin types and can be customized to meet the unique needs of each individual client.
IS THERE ANY DOWNTIME WITH HYDRAFACIAL?
No, there is no downtime with HydraFacial. You can immediately return to your normal activities.
HOW LONG DOES THE TREATMENT TAKE?
Treatment times vary depending on the type of HydraFacial you choose, but generally range from 30-90 minutes.
HOW OFTEN SHOULD I GET A HYDRAFACIAL?
We recommend getting a HydraFacial every 4-6 weeks to maintain optimal results.
IS HYDRAFACIAL SAFE?
Yes, HydraFacial is a safe and non-invasive treatment. Our experienced Medical Estheticians use the latest technology and products to ensure a safe and effective treatment with optimal results.
CAN I WEAR MAKEUP AFTER A HYDRAFACIAL?
We recommend waiting at least 6 hours before applying makeup after a HydraFacial to allow the skin to fully absorb the benefits of the treatment.