Laser Hair Removal Boston - Lexington & Wellesley
20 mins or less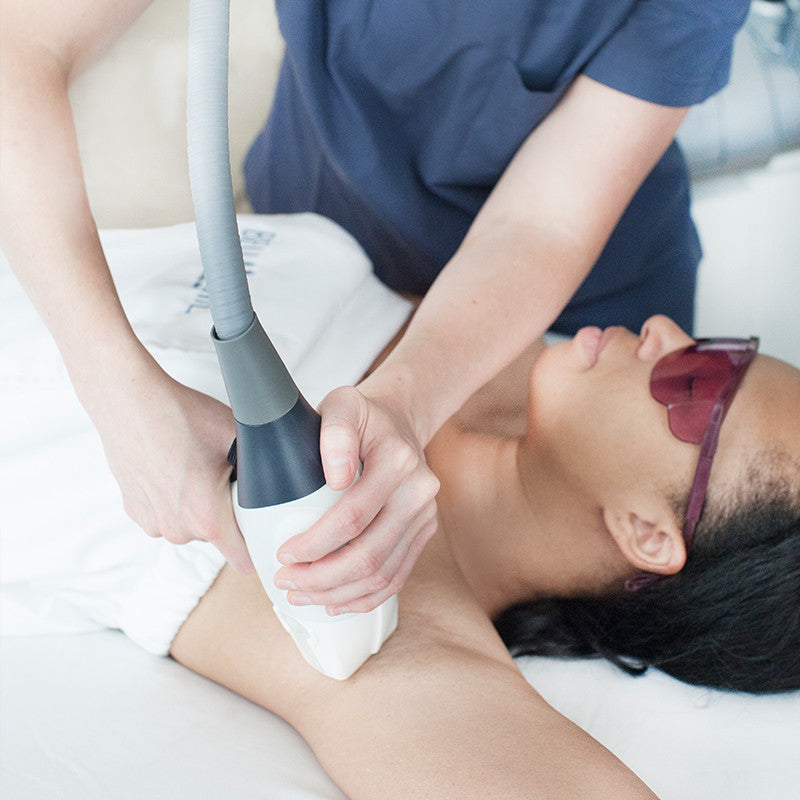 For those who are ready to move on from shaving, tweezing and waxing unwanted hair, Bella Santé offers the Vectus Laser Hair Removal System by Cynosure. This laser is a big step forward from the previous diode laser hair removal methods.
The Best Laser Hair Removal In Boston MA
The Vectus Laser Hair Removal System is available in our Lexington and Wellesley locations. Currently the best laser for effectiveness, affordability, and patient safety, it is compatible with the Skintel melanin reader. Plus, cutting edge technology makes this laser the fastest way to remove unwanted hair from any area of the body. Even larger areas like the back or legs can be completed in 20 minutes or less.  
Features of the Vectus Laser Hair Removal System include:
The ability to treat large areas in a short amount of time

Advanced contact cooling helps keep the skin cool and comfortable during treatment

Photon recycling reduces the number of times the laser is moved over the skin

The Skintel Melanin Reader allows us to tailor treatments for each guest, and it is the only FDA-approved melanin diagnostic tool currently in market
Book A Laser Hair Removal Consult 

Common Laser Hair Removal Areas
Face: This can include areas like the upper lip, chin, and cheeks. It's often chosen by guests who want to reduce or eliminate unwanted facial hair.
Underarms: Many people opt for laser hair removal in the underarm area for a more permanent solution to shaving or waxing. Waxing vs laser hair removal is a common hair removal dilemma. Many guests transition to laser after years of waxing. 
Legs: Both upper and lower legs are common areas for laser hair removal. This is popular among individuals who want to reduce the need for regular shaving.
Bikini Line: This area includes the hair along the bikini line or swimsuit area. Some people opt for more extensive treatments, such as a Brazilian or Hollywood, which remove more or all of the pubic hair.
Chest and Back: Both men and women may choose to have hair removed from their chest and/or back.
Arms: Laser hair removal treatment on the arms, including forearms and upper arms, is also common.
Abdomen: This can include the removal of hair on the stomach area.
Neck: For some individuals, especially men, the neck area can be a focus for hair removal.
Shoulders: This area is common for men who want to reduce hair growth.
Feet and Toes: Some individuals opt for laser hair removal on their feet and toes.
Is Laser Hair Removal Right For Me?

You should not receive this service if you are pregnant, breastfeeding, or have a history of herpes simplex virus in the area you'd like to be treated. We cannot treat areas with tattoos, permanent make-up or keloid scarring. 
If you have taken Accutane in the last six months, please let us know, as laser hair removal treatment may not be suitable for you.
For more information and before starting your treatment series, we highly recommend taking a moment to explore our concise yet thorough guide on laser hair removal. Packed with invaluable insights, it covers everything from pre-session preparations to post-treatment care, ensuring you get the most out of your experience. 
Who Is A Good Candidate For Laser Hair Removal In Boston?
The Vectus Laser at Bella Santé  in Boston, Lexington and Wellesley sets a new standard in hair removal technology. This cutting-edge system is highly effective for a wide range of skin tones and hair types. It's especially well-suited for individuals with lighter skin tones and darker hair, but advancements have expanded its applicability to various skin tones. During your consultation, we will assess your unique characteristics to ensure the Vectus Laser is the ideal choice for you. This state-of-the-art technology allows us to provide a precise, efficient, and long-lasting hair removal solution. 
Is Laser Hair Removal Covered By Insurance?
We understand the importance of clarity when it comes to med spa procedures and insurance coverage. Laser hair removal is generally considered an elective cosmetic treatment, designed to enhance one's confidence and comfort. As such, it is typically not covered by insurance plans. However, we offer competitive pricing and a variety of payment options to make our services accessible to everyone seeking a smoother, hair-free complexion. Our experienced team is dedicated to providing safe, effective, and personalized treatments, ensuring you achieve your desired results. 
Cost of Laser Hair Removal in Boston, Lexington and Wellesley
Pricing for laser hair removal l will be provided during your personalized consultation. We look forward to discussing your unique needs and offering a tailored treatment plan.
How To Prepare For Laser Hair Removal
Before your appointment: Please shave the area that will be treated on the day of your appointment Do not tweeze, wax, use a depilatory cream or undergo electrolysis in the area you wish to treat for six weeks prior to your appointment or throughout your series Avoid any UV exposure to the area being treated for four weeks prior to treatment or throughout your series, even with SPF coverage Avoid self-tanning products for two weeks prior to your service or throughout your series. Consultations are always required to ensure that you are a good candidate for this treatment.